We all know that dog is man's and woman's best friend.  We bring them into our homes and love them like family.  Many communities are not pet-friendly.  West Main in walkable Alpharetta will offer their own dog park inside the community and many walk around Alpharetta with their dogs.
How did a dog become man's best friend?  According to this article in the Philadelphia Inquirer, here are some thoughts.
Dogs. There's a reason we call them man's best friend. We can learn so many things from a dog's behavior, personality, demeanor, resiliency, and most importantly, the willingness to provide their family members with unconditional love, loyalty, and companionship down to their very last breath.
You come in the door from a long day's work. The dog doesn't judge you; he doesn't care how you're dressed or if you've just had a really bad day. No matter the situation, your dog is happy to see you. You are greeted with the same enthusiasm each and every time you walk in that door. A dog has the ability to live in the present moment. They don't regret the past or worry about the future. If we can learn to appreciate and focus on what's happening in the here and now, we'll experience a richness of living.
In the presence of a dog, somehow, nothing else matters. A dog is handing out pure love, sparing no expense, and asking absolutely nothing in return. There's consistency, love, and the beauty of life at its finest.
Each and every dog that you bring into your home is unique, has its very own personality, and affects your life profoundly. Some of the greatest relationships and life lessons are learned with your dog; Unconditional love, living in the moment, loyalty.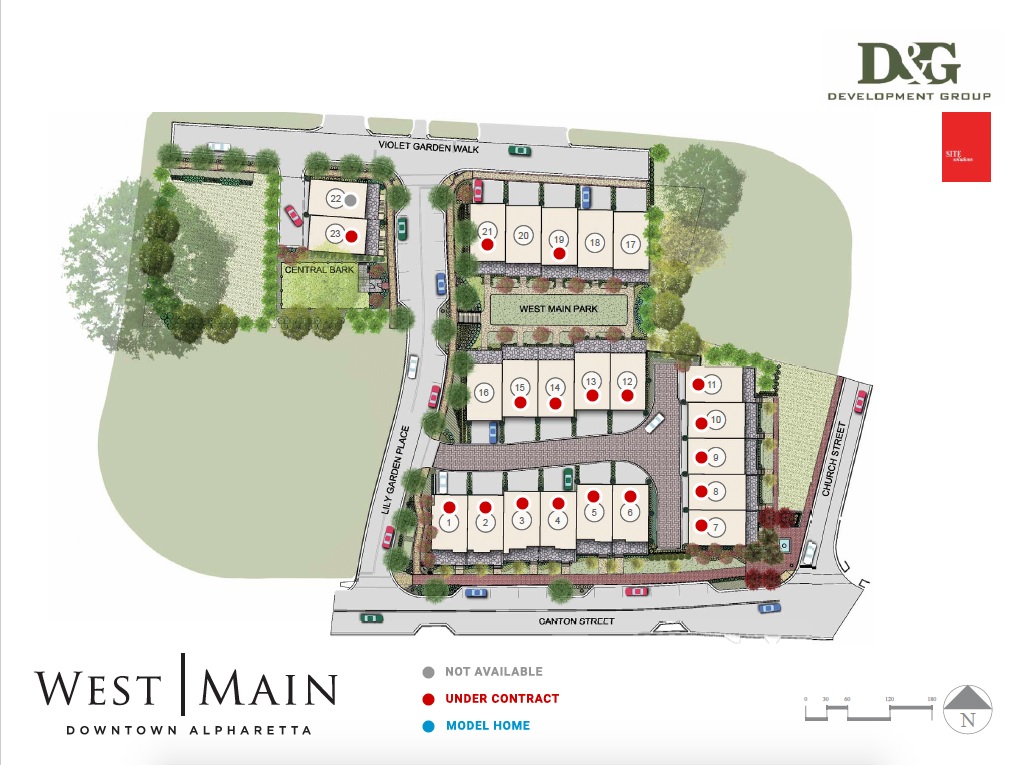 West Main welcomes your best friend and will create a dog park [seen above] so that you can play with them right in your own space or take a walk through historic Alpharetta and enjoy the scenery. [ Dog park slated to be completed in 2020]
In fact, if you are looking for a walkable community, West Main is your kind of place.  Enjoy exploring the small-town, historic charm of downtown Alpharetta that is located minutes from your new home at West Main.  The area is well-known for its eclectic mix of eateries, shops and galleries and serves as a hub for music, art and street festivals throughout the year.
Atlanta has mild weather year round and you will love being able to step out on your balcony to enjoy the night sky in your new home at West Main.  The architectural design of West Main encourages you to enjoy both indoors and outdoors in all seasons. Enjoy friends and family looking out from a private sky terrace equipped with an optional fireplace and kitchen for easy entertaining.  Enter through a main floor entrance with an elevator, private verandas on the main, three-car garages and an entertainment/recreation room.
Stop by West Main and experience a lifestyle that you will love.  You can live large at West Main when you take advantage of new pricing on select homes.  Only FIVE remain!
Call Deborah Cook at 678-578-6811 or email her at Deborah.Cook@BHHSgeorgia.com to schedule a tour today.
Easy Access to Best of Atlanta
Ideally located with easy access to GA 400, West Main is convenient to the best of Atlanta and is just minutes from Avalon and Ameris Bank Amphitheatre for great events and concerts.
View all available townhomes here
Come to live at West Main, where timeless elegance meets the life well-lived.
Follow us on Twitter @westmaintownhme or on Facebook @westmaintownhomes
West Main Townhomes are located at 95 Canton Street, Alpharetta, GA 30009 Get Directions Here
Townhomes from the High $900's
In a fantastic location at the corner of Canton and Church Street, West Main is selling fast!  Call Deborah Cook at 678-578-6811 or email her at Deborah.Cook@BHHSgeorgia.com.
Sales handled by Berkshire Hathaway HomeService – Georgia Properties – New Homes Division